A Monthly Craze or the New Normal? 
Have you ever returned from a shopping spree only to feel deflated as soon as you've stamped in your PIN? Do you ever get a sense of regret the second you've clicked pay on a fast fashion website? The easier shopping is, the worse we feel. The world was in lockdown for months, yet it was still possible to order from ASOS, Shein, and Pretty Little Thing. For many of these brands, next day delivery was still available. Can you blame the masses for feeding into fast fashion, when advertisements for these websites constantly flood our social media? When it is made so easy to order something? Bloggers share designer products and are criticised as it's not attainable for the average person. Equally they're criticised for releasing affordable edits with fast fashion companies. That's where Oxfam's new movement, Second-hand September, seems to provide a nifty solution. You can read more about fast fashion here: Is fast fashion finished?
What is Second-hand September? 
Oxfam has challenged consumers of fast fashion everywhere to participate in Second-hand September. Like its challenge cousins, Veganuary (where you eat vegan for the month of January) or Movember (where men grow moustaches in November to raise money and awareness for issues in men's health) Second-hand September is a challenge that asks that for 30 days, you only shop second-hand. Although once this may have seemed limiting, with today's technology, there are multiple apps to help you along. 
What's great about this movement is it doesn't ask you to simply stop shopping. While that would be admirable, and maybe even easy for some people, for others it sets them up for failure. Like many habits, it is something that you must be eased out of slowly, otherwise you can risk a binging session the next time you walk into Zara.
Ways to Participate in Second-hand September
Thrifting
As this is an Oxfam movement, their goal is to have people shop in their charity stores, of which there are 14 in Dublin alone. If you want to read more about their message, you can click here. However, they are not the only charity shops to go to. In Dundrum alone there is an Oxfam, Dundrum Village Charity Shop and a St Vincent de Paul. Dublin City Centre has an abundance of thrift shops, including Nine Crows, Siopaella and Dublin Vintage Factory. These often hold stock of branded items and though they can be on the more expensive side, you'll still be doing your bit for the environment by shopping second-hand instead of buying something brand new.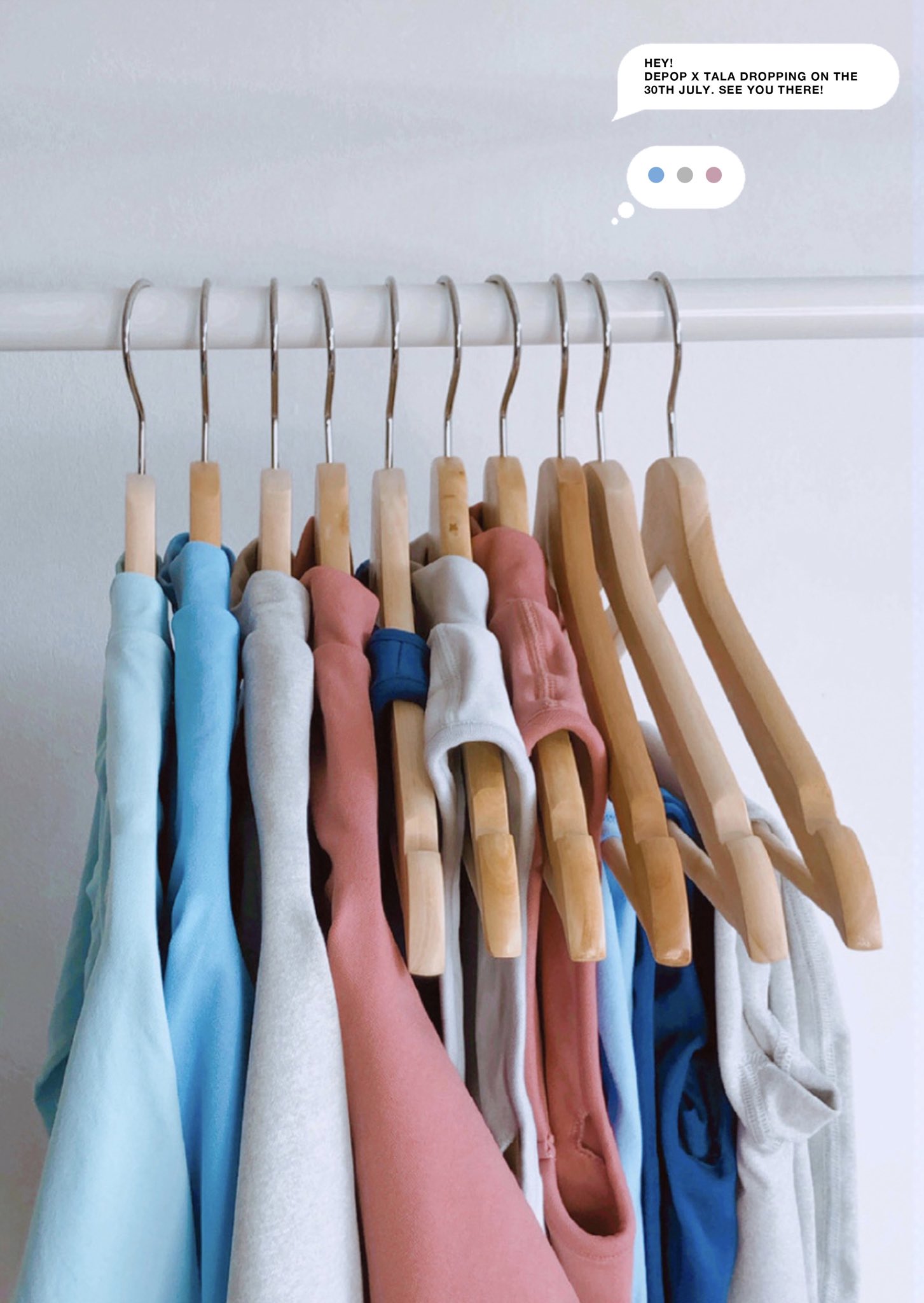 Depop is huge. Only this year,  successful and sustainable activewear brand Tala, owned by UK influencer Grace Beverley, collaborated with the app. Instead of binning old samples, Depop and Beverley joined forces and created a marketplace for these items. The samples may not have been exactly right for her website but they were still wearable. Depop and Tala saw a  sustainable opportunity here. This collaboration will hopefully pave the way for bigger brands to make use of their old samples and not simply discard them. You can view the garments for sale here. 
Depop is a great place to buy and sell clothes even outside of this collaboration. It is available to download on Android and Apple phones.
This app tracks the items in your wardrobe and ensures that you get your money's worth. The app was created with the ideology that you only buy an item if you will wear it 30 times. It is fascinating once you've uploaded your wardrobe (which you can do by taking pictures of what you're wearing daily) to see what items you gravitate towards, and what items you frequently overlook.
When you reach 30 wears, you can remove the item from your wardrobe. Even if you find it difficult to avoid shopping, this app serves as a reminder of what's already in your wardrobe, so you only go to purchase an item when there is truly a gap in what you have.
If you miss out on Second-hand September
I know what you're thinking. It's already half-way through Second-hand September now. It's too late to start. I've already bought something that was not second-hand. Well, it is never too late to implement a change like this. Although it is fun to participate in a challenge, for one such as this, it's important to realise this shouldn't just be a once off endeavour. Fast fashion is causing a crisis for our planet, which you can read about more here. Second-hand September might just be a phase for you but it is imperative that consumers are more conscious of their purchases. You don't need to go cold-turkey in order to make a change. Reducing your purchases from 10 items a month to five will go a long way. These small changes can have such a big impact. 
How to Continue Being Sustainable:
Donate your clothes.
Chances are you already donate clothes when you're finished using them. Make a conscious effort to take care of your clothing, even if it is something you don't think you'll wear again. One woman's junk is another woman's treasure. 
Borrow and share clothes.
Often trends lure you into purchasing something you normally wouldn't. It's understandable that as fashion evolves, so too will your sense of style. However, perhaps your friends feel the same. Instead of all buying different dresses for an evening out, pool your money and share an item instead. Chances are you won't wear a formal dress more than a couple of times. 
Stick to the basics.
Garments such as a white shirt, a good pair of jeans, a leather jacket, are all the kinds of clothing that won't ever go out of style. Investing in these key long-lasting pieces will mean you'll have less of a need to go wandering onto fast fashion websites; your wardrobe will naturally piece together better.
Frequent thrift shops.
Not only will you find one of a kind items, you'll curb that craving for new clothes without the guilt. 
Invest in tailoring pieces.
Weight or height fluctuate as we grow, and sometimes this makes a once loved piece unwearable. However, that doesn't mean you have to bin that item. Sometimes spending that extra money on tailoring will save you spending money unnecessarily later. 
Only follow influencers/brands you love on Instagram.
It is so easy to be "influenced" into buying something when you're constantly seeing it on bloggers. However, if you don't follow loads of accounts, you can't be swayed as easily. Follow influencers who spread the message on sustainability and make active changes to cut down their fast fashion intake. Irish bloggers who do this include Rozanna Purcell and Melanie Murphy. These women are constantly promoting second-hand shopping and creative ways to restyle old clothes.
What can we learn from Second-hand September?
It's not about cutting out fast fashion completely – to do so for many people simply isn't feasible. Sustainable fashion, or slow fashion, can cost much more, but it is about making those small changes to cutback. Social media isn't the devil either – apps such as 30 Wears and Depop are advertised via Instagram, and it can be a great place to build each other up and keep each other going. 
If you have any good tips on how to stay away from fast fashion, or reduce your intake, pop a comment down below!