The slogan "one of the few cosy pubs that have managed to retain its original identity" is one belonging to Frank Ryans, which it lives up to. The pub was opened approximately 200 years ago, and is known for being quieter than other pubs in the Dublin area, but this does not mean it is any less lively. It offers its visitors and regulars an array of drinks, pizzas, and live music performances during the evening times, alongside an outdoor seating/smoking area.
Frank Ryans – Drink
It goes without saying that Frank Ryan's assorted drink selection of beer, stout, cider, and cocktails is a key part of its authentic identity. One of the drinks most popular with customers is none other than Guinness. Guinness is a stout that has an excellent reputation in Frank Ryans, known for its dark, creamy texture and commonly served in a pint glass with its trademark harp and lettering logo (as seen above).
Another great choice that Frank Ryans offers its customers is the botanically brewed Hollows and Fentimans ginger beer. Although lower in alcohol percentage than Guinness, it deserves recognition for its distinctive ginger flavour. It can also come served with a glass of ice with lime or else just as a refrigerated bottle on its own like in the image of the five bottles above.
In addition to its bottled drinks and drinks on tap, Frank Ryans also offers two different cocktails to choose from as well. Customers have the choice between either a Passionfruit Martini or an Espresso Martini (depicted above). This cocktail can also be paired with a pizza for €17 as a bargain inclusive of both food and drink in one package.
Frank Ryans – Pizzas
Pizzas in Frank Ryans are the main food the pub has on offer, although the menu does also offer sides of chicken wings and focaccia bread. Its pizzas are woodfire-made and come in two main types: red pizza and white pizza. The menu's red pizza range has a tomato sauce base underneath its pizzas, whereas the white pizza range has no tomato sauce base to its pizzas on offer.
An example of its red pizza selection is pepperoni pizza. Topped with tomato sauce, mozzarella, and of course pepperoni, this choice is ideal for fans of meat. This choice is also applicable to the cocktail deal mentioned earlier in the article. 
As for its white pizza, Frank Ryans offers not only pizzas without tomato sauce, but also a dessert pizza in the form of its Nutella pizza. Frank Ryans's Nutella pizza is topped with creamy cheese, Nutella, and ice sugar to make a doughy, chocolatey dessert following whatever pizza chosen by the customer is consumed. It goes nicely with a drink or simply on its own.
Frank Ryans – Live Music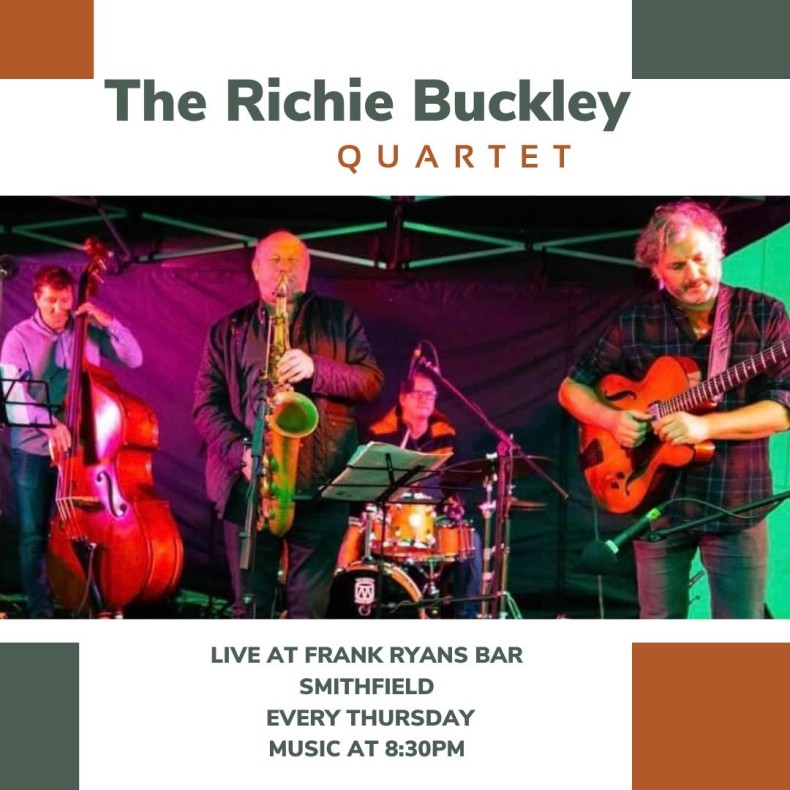 Live music is another main draw of Frank Ryans, accompanying its food and drink. This happens in the pub every Thursday, where they have a jazz night on for its regulars and visitors. The jazz night is hosted by the group Richie Buckley's Quartet (in the picture above), who play instrumental jazz music all throughout the evening, starting at 8:30 PM.
Frank Ryans is not only an amazing Smithfield experience, but an amazing experience to have within Dubin itself. Its well-rounded selection of drink, firewood pizzas, and jazz-heavy live music underpin its slogan of being "one of the few cosy pubs that have managed to retain its original identity" . Both the Smithfield and the greater Dublin area are all the better for having Frank Ryans in their array of pubs to visit.
Address: 5 Queen St, Smithfield, Dublin 7, D07 T227
Opening Hours:
Monday to Thursday: 4pm – 11:30 pm
Friday to Saturday: 4 pm – 12:30 am
Sunday: 6pm – 11pm